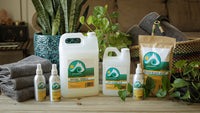 We may have started small, but we're always thinking big.
Our mission is to provide a healthy, safe and effective biodegradable soap whose sole purpose is to clean your clothes while leaving no trace behind. We never hide from our ingredients, and are always crafting smart, eco-friendly & effective products that always consider people, planet and profit on equal footing.
We're committed to soap education and label transparency, and know that the future of the planet depends on us starting a packaging revolution which begins with refillable containers and bulk sections. Talk to your favorite local retailers and ask them to stock KELIGREEN products in their bulk sections and on their shelves!